Hanazono Studios
2216 Frankford Avenue, Philadelphia PA 19125
www.hiroehanazono.com

Hiroe Hanazono, a native of Japan, received her BA in Spatial Art and Ceramics from California State University, Hayward California in 2003, and her MFA in Ceramics from the School of Art, Ohio University, Athens Ohio in 2008.
She has been invited to participate in numerous prestigious artist-in-residency programs, a few of which include the Archie Bray Foundation, The International Ceramic Research Center in Denmark and The Clay Studio in Philadelphia where she awarded the 2008-2009 Evelyn Shapiro Foundation Fellowship. She produces highly designed functional tableware in her Philadelphia home studio. As well as her thriving practice, Hanazono teaches a variety of ceramics classes in New York City and in the Philadelphia region.
Neighborhood Potters
2034 Fairmount Ave, Philadelphia, PA 19130
www.neighborhoodpotters.com

Sandi Pierantozzi is a nationally recognized potter and has been making pots for over 30 years. Her work, which is predominantly slab built, has been featured in Studio Potter, Ceramics Monthly, Clay Times and over a dozen books on clay work. She has presented numerous workshops across the country, and has exhibited her work nationally and abroad. Her work is in both museum and private collections. She was chosen an Emerging Talent at the 1993 NCECA conference and was a featured demonstrator at NCECA in 2001. Her awards include a 2001 Fellowship from the Pennsylvania Council on the Arts, and the Hammill & Gillespie Purchase Award at the 1999 Ceramics Monthly International Ceramics Competition. She created and organized "HANDBUILT" in 2009 & 2013,the first national conference dedicated to handbuilding, to benefit the Craft Emergency Relief Fund (CERF)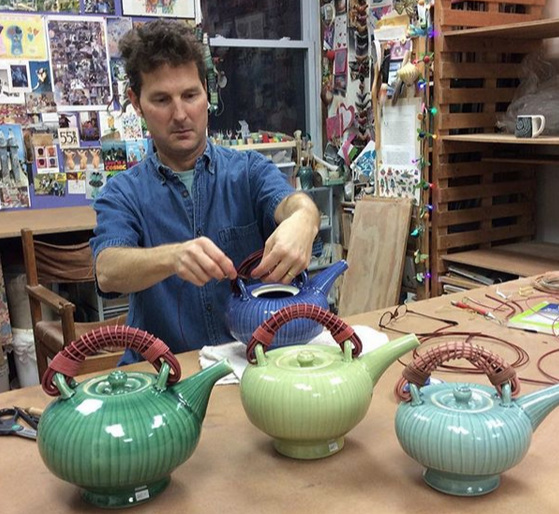 Neighborhood Potters
2034 Fairmount Ave, Philadelphia, PA 19130
www.neighborhoodpotters.com

Neil Patterson has been making pots for thirty-nine years. Neil has a BFA from the Cleveland Institute of Art and an MFA from Louisiana State University. He was a core student at Penland for two years and spent a year studying Ceramics at the Cardiff Institute of Higher Education in Wales. He has been an artist in residence at The Clay Studio in Philadelphia and teaches part-time at a few local colleges. Together with his wife Sandi Pierantozzi he teaches at their studio in Philadelphia.
Greenheck Ceramics Studio
2019 N. 33rd Street, Philadelphia, PA 19121
www.ryanjgreenheck.com

Ryan received his Master of Fine Arts degree from SUNY College of Ceramics at Alfred University in 2004. He also received a Bachelor of Fine Arts degree as well as a Bachelor of Science degree from The University of Wisconsin-Stout in 2002. He has participated in numerous national juried exhibitions and invitational shows since 2000. His work is represented in many galleries throughout the country. Ryan currently is a practicing studio potter and Lecturer at the University of Pennsylvania.
Bailey Street Arts Corridor
1525 N. Bailey Street, Philadelphia, PA 19121
www.connellypottery.com

Michael Connelly is a potter in Phoenixville, Pennsylvania, as well as Assistant Professor at Montgomery County Community College in Blue Bell, Pennsylvania. In 2010, he founded the Bailey Street Arts Corridor in the Brewerytown neighborhood of Philadelphia.
He received his B.F.A and M.F.A from Alfred University in Alfred, New York. Connelly has taught and presented lectures and workshops at various venues nationally and internationally, including classes at Alfred University, Haystack School for Crafts, Alberta College of Art and Design, Archie Bray Foundation and Penland School of Crafts.
His utilitarian pottery is in the permanent collections of the China Yaoware Museum, the Alfred Ceramic Art Museum, Asheville Art Museum, American Museum of Ceramic Art, Hintington Museum or Ceramic Art and Long Beach Museum of Art
Bailey Street Arts Corridor
1525 N. Bailey Street, Philadelphia, PA 19121
www.robertamassuch.com
Roberta Massuch lives and works in Philadelphia, PA— where she is a Resident Artist at The Clay Studio, studio technician and instructor at The Community College of Philadelphia. She received her BFA from Northern Illinois University in 2005 and her MFA from Louisiana State University in May 2013.